Fit for the Journey: An Exercise Program for Cancer Patients
The cancer journey is a long and difficult one, and it can be made worse by fatigue and inactivity. People want to be more active, but it is just so overwhelming with everything they are going through. Fit for the Journey (FFTJ) is designed to help get people moving again!
FFTJ is a program for people living with a current or past cancer diagnosis who would like to improve their fitness. Individually designed exercise programs, which may include strength/weight training, cardiovascular, balance or flexibility exercises, are available. These programs are held in a small group setting. FFTJ is held on Tuesdays and Thursdays on the Manchester Memorial Hospital campus. It is free of charge for those who have a diagnosis of cancer.
According to the American Cancer Society, "studies of people with breast, colorectal, and prostate cancers suggest that physically active cancer survivors have a lower risk of cancer recurrence and improved survival compared with those who are inactive."
In addition, there are so many benefits of exercise that include:
Improved physical function
Reduction of muscle or bone loss
Less fatigue
An increased appetite
An enhanced quality of life
Maintaining a healthy weight
Lessens feelings of depression and anxiety
Promotion of psychological well-being
Strengthens one's immune system
Gaining of new friends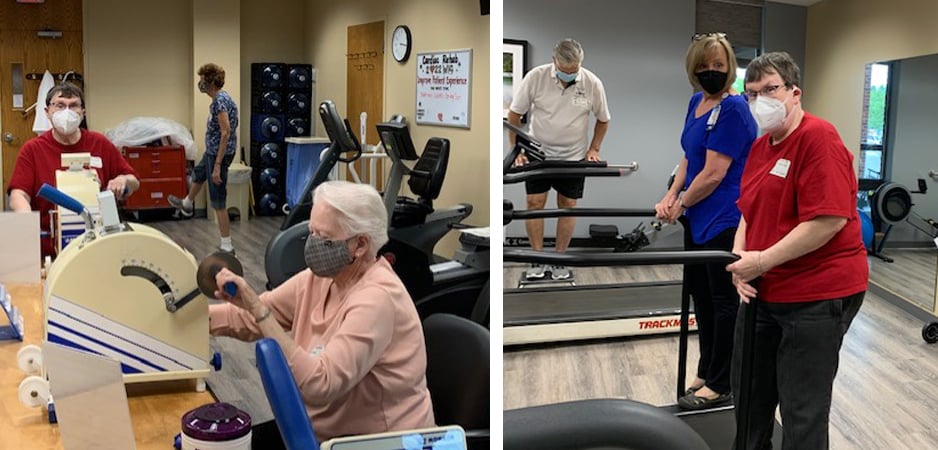 FFTJ is run by ECHN's own Physical Therapy Assitant, Mary Pesce. Mary is a certified personal trainer and has received her certification for cancer exercsie training. Mary meets with a patient (with approval from their doctor) one on one to design an individualized program to meet their fitness goals.
Anyone who has met Mary Pesce knows that she is a passionate, kind, and caring therapist, and a huge advocate of cancer rehabilitation. She is a Cancer Exercise Training Specialist who has been working with Fit for the Journey for 8 years!! Mary is also a breast cancer survivor herself, a caregiver for a family member with cancer, as well as a fierce advocate for all cancer patients in her care.
Those who regularly join her have been with her for many years. They have formed friendships and an informal support network. Everyone is always enthusiastic about welcoming new members to the program! On the days that the group meets, there are friendly greetings and check-ins with each other.
Karen, a breast cancer survivor of 7 years, finds that the companionship is one of the best parts of the exercise group, and Mary modifies her routine to help her with meeting her fitness goals.
Prostate cancer survivor David knows the positive impact of exercise after treatment; he found the program on-line and decided to give it a try. "I could have found a gym to go to, but with a gym I could find an excuse not to go," he said. "(here at least) I can be held accountable."
The class is "very helpful exercise class for someone who does not like to exercise," Andrea says. "My main concern for joining was post-op removal of sarcoma. When I developed a breast issue, the group offered so much support, and surrounded me with compassion and lots of great help on this other journey. I have improved with exercise and motivation from the group. It's a must for me."
Maintaining or restoring fitness levels is an important part of any recovery, especially cancer. Through education and guidance, the Fit for the Journey Exercise Program can help meet those goals.
Please feel free to contact us at 860.647.6485 with any questions about the program.