Honored for Patient Safety Two Years in a Row!
Manchester Memorial Hospital has been honored with the Patient Safety Excellence Award™ from Healthgrades.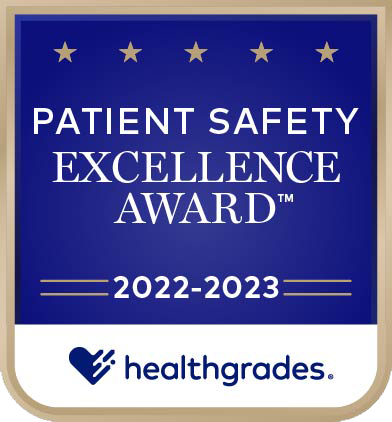 The award recognizes hospitals scoring in the top 10% in the nation for patient safety, with the lowest occurrences of 14 preventable patient safety events. Manchester Memorial Hospital is the only hospital in Greater Hartford to achieve this recognition and one of only three hospitals in all of Connecticut.
This distinction places Manchester Memorial Hospital among the top 10% of all hospitals in the country.
How is patient safety measured?
Healthgrades studied 164,592 patient safety events involving Medicare patients between 2019 – 2021 and found four patient-safety indicators that accounted for 74% of all patient safety events.
According to Healthgrades, patients who are treated by hospitals that receive a Patient Safety Excellence Award are less likely to experience in-hospital injuries or infections, including:
61.4% less likely to
experience an in-hospital fallresulting in hip fracture.

52.7% less likely to
experience a collapsed lung resulting from a procedure or surgery
in or around the chest.

66.1% less likely to
experience pressure sores or bed sores acquired in the hospital.

67.3% less likely to
experience catheter-related bloodstream infections
acquired in the hospital.
Our Core Hospital Services
Compassionate care for all your health needs.
We continue to make it easier and more affordable to access the highest quality care when you need it. Your community healthcare network is a healthcare leader, evidenced by numerous honors, achievements and certifications.