Patient Safety
ECHN is committed to being designated as a High Reliability Organization, which means we continuously work together to improve patient outcomes and provide a safe environment for our patients. We foster a culture of safety in our hospital by following and monitoring our quality and safety practices and continuously seek ways to improve care.
We strive to ensure your hospital experience is as comfortable, safe and agreeable as possible. ECHN's safety protocols and quality control measures help us to deliver safe high-quality patient care.
The National Patient Safety Goals are a guide that ECHN uses to keep our patients safe. They were established by The Joint Commission (TJC), an accrediting body that ensures ECHN is a fully accredited organization and are updated on a yearly basis. ECHN focuses on the National Patient Safety Goals to ensure that we are delivering safe, effective and high quality patient care.

An important way to help ensure your safety as a patient is to ask questions when you do not understand what is happening, if you believe something is not right, or if you have concerns about your care. Another safety measure is to make sure that your doctors, nurses and other healthcare providers confirm your identity by checking your wristband, and by asking your name and date of birth before procedures or treatments are performed or medications are given. It is standard procedure to ask for two patient identifiers, even if your caregiver knows you. You may also be asked the same question more than once. Please be understanding as these questions are designed to ensure that each caregiver has accurate information about you.
Patient Safety Excellence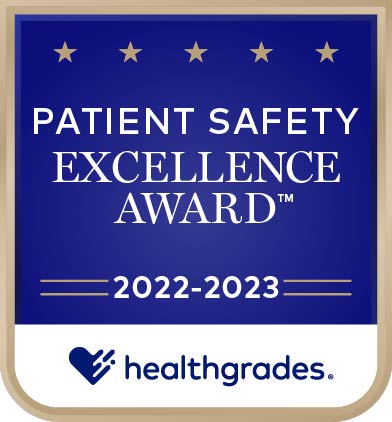 Manchester Memorial Hospital:
Patient Safety Excellence Award™ from Healthgrades for the Second Year in a Row!
The award recognizes hospitals scoring in the top 10% in the nation for patient safety, with the lowest occurrences of 14 preventable patient safety events. Manchester Memorial Hospital is the only hospital in Greater Hartford to achieve this recognition and one of only two hospitals in all of Connecticut.
Rockville General Hospital:
Centers for Medicare and Medicaid Services 4-Star Rating
CMS annually rates more than 4,500 hospitals across the country from one to five stars, with five representing the highest quality rating. The star rating summarizes a variety of measures across the five key areas of quality, including mortality, safety of care, readmission, patient experience and timely and effective care. The overall rating shows how well each hospital performed on an identified set of quality measures compared to other hospitals in the U.S.
ECHN's Patient Safety Committee
The Patient Safety Committee consists of staff members throughout many ECHN departments. This Committee meets monthly to review and discuss various patient safety issues, review data and events and develop plans to intervene when necessary to improve patient safety. Examples of Patient Safety Committee Implemented Programs:
Falls: We have instituted the "Stay with Me" program in which a staff member stays with any patient who is a high risk for a fall when the patient needs to get up and go to the bathroom or the commode. This program has led to a decrease in our fall rates and an increase in safety for our patients.
Rapid Response Team: When there is a change in condition of a patient our Rapid Response team immediately goes to the patient's room to assess the patient and make recommendations to help stabilize or transfer to a higher level of care. We review information related to this team to make sure we are responding to patient needs quickly and efficiently.
Infection Prevention: We stress importance of staff hand washing before and after caring for each patient. We have infection control specialists reviewing all situations related to infection to ensure every precaution is in place to prevent patient infection. We monitor our infection rates to make sure they are the lowest possible and remain low.
Pressure Ulcer (Bed Sores): This program ensures that a certified wound and skin nurse is on every unit to make sure that our patients get the best skin care to prevent any current or future problems.
Medication Administration: We have computerized systems that add to the safety of our medication administration process, we closely review all information related to medications and when necessary, we make changes to improve these processes.